Helpline
Click here for Online Admission
Admission in class I to VIII and Class IX till 31 July
TC (if other than CBSE duly countersigned by the respective district Edn Offr)
Report card and date of Birth Certificate duly Signed by the CO/OC
Admission in class X to XII
TC, Report Card, Registration Certificate, one original set and one duplicate set duly attested by Principal of previous school are required.
Posting and movement order attested by the present unit and Local residence proof as per office record.
other required document as per CBSE norms.
Click here to know online fee procedure
For Apply TC online-
Send an email at apsjodhpurtcadmission@gmail.com along with scanned copy of ink signed application on behalf of parents.
Bank passbook front page scanned copy.
For TC, Admission and Online fee payment related query contact us on (Class I to V)-
Mob +91 9414005443
Email- apsjodhpurtcadmission@gmail.com
For TC, Admission and Online fee payment related query contact us on (Class VI to XII)-
Mob +91 9414005442
Email- apsjodhpurtcadmission@gmail.com
For Exam and Result related query contact us at apsexamcell@yahoo.co.in
What seems to us as bitter trials are often blessings in disguise.--Oscar wilde.
About The School
The Army Public School, Jodhpur was established on 01 July 1992 with strength of 247 students from class I to V. It was recognized by the AWES in Jul 1992. In July 1995, Class IX was added, in 1996 first batch of 16 students made the school proud by passing the CBSE class X Board Exam. Thereafter the school never looked back and took a quantum leap by starting class XI (Science) in 2001. Class XII (Science) was added in July 2002.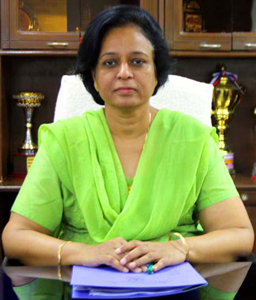 PRINCIPAL'S DESK
The school website is a platform for free expression. It is an expression combined with clarity of thoughts and mind, giving rise to a perfect prism where in all the colours of APS jodhpur's culture is visible.
The wide ranges of colours encompass the duties and responsibilities towards the people in the ageis of APS, towards the Society, the Nation and Globe.
The vibrant APSJ is a symbol of zeal, enthusiasm, dedication, hard-work, commitment, truth and above all honesty. All these colours are distinctly visible as we turn the pages of website.
UNIQUE FEATURES
LABORATORIES
Practicals are as important as theory. Therefore, we have 7 laboratories for students to do research work.
SMART CLASSES
Our schools have smart classrooms that use audio-visual methods of engaging students with their lessons.
EXPERT TEACHERS
Teachers of our school are well experienced and certified in their niches thus offering quality education.
CO-CURICULAR ACTIVITY
Co-curricular activities are good for improving students learning experience and their attendance at school.
TOD FOD JOD ROOM
We created this room to foster innovation at an early stage & to create an innovative mindset in the students.
SPORTS ACTIVITY
Sports are important for mental and physical development of students and we put a huge focus on this.
OUR HOUSE SYSTEM
TESTIMONIALS
I wish to convey my sincere thanks to all my teachers who extended their unstinting support in shaping my future. I would like to thank Mr AK Khan, Mr Amarnath Sinha, Mr Ajay Singh Gehlot, and Mr Rajinder Singh Rajput for their guidance & support.
Nikhil Virdhi (IES)
I joined APS Jodhpur in 2016 in class 11th leaving APS Amritsar. The school was new to me, all unfamiliar faces around. But not for long. I would always remember Khan sir's funny and entertaining classes in which we used to study as well as laugh our hearts out.
Rohit Singh (NDA)
I am profoundly grateful to my Alma mater for providing me the skills and the knowledge that brought me where I am today. A special thanks to all the wonderful teachers and staff that pour their heart out day and night for the children of this great institution.
Maj Umesh Kumar Raghav