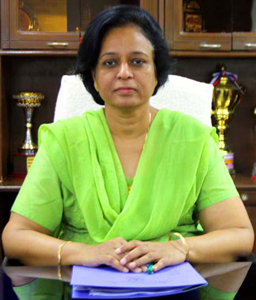 The school website is a platform for free expression. It is an expression combined with clarity of thoughts and mind, giving rise to a perfect prism where in all the colours of APS jodhpur's culture is visible.
The wide ranges of colours encompass the duties and responsibilities towards the people in the ageis of APS, towards the Society, the Nation and Globe.
The vibrant APSJ is a symbol of zeal, enthusiasm, dedication, hard-work, commitment, truth and above all honesty. All these colours are distinctly visible as we turn the pages of website.
Today APSJ has created a niche in the social circles of Jodhpur and has proved to be a strong pillar in the field of academics, sports and socio-cultural development. This could not have been possible without the support of our caretakers- School Management, well wishers, parents, our dedicated teachers and loving students who not only dream big but also accomplish everything with determination and passion.
Dr. (Mrs.) Tabassum Khan
Principal – APS Jodhpur