PRIMARY SCHOOL CURRICULUM
CURRICULUM FOR CLASSES I TO V
The primary school lays the basic foundation of learning in any school and we at APS understand only too well. The school curriculum not only offers regular subjects such as English, Hindi, EVS, and Mathematics but also incorporates Art and Craft, Music, Computer and Sports for holistic all round development of student.
We also have a special provision of Inclusive Education where all special children are also included in mainstream education. Along with regular school curriculum adequate emphasis is also laid on moral values. As we believe that imparting ethics should be done alongside regular teaching.
MIDDLE SCHOOL CURRICULUM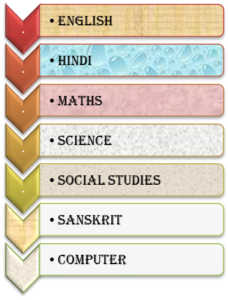 CURRICULUM FOR CLASSES VI TO VIII
At the onset of adolescence and pre adolescence, taking into account the problems faced by students there are regular counselling sessions held, which are integral part of the regular time table.
And goes without saying the middle wing continues with all the subjects such as English, Hindi, Maths , Science, Social Science, Sanskrit ,Computer along with Art and Craft, Music and Sports. Regular library period is also added in the time table to improve reading skills of Children.
We offer variety of co-curricular activities like storytelling, just a minute session which help students to tap their speaking and writing skills and help to build up the confidence.
SENIOR SCHOOL CURRICULUM
CURRICULUM FOR CLASSES IX TO XII
Senior wing is topmost rung of the ladder. Under the expert guidance of specialised teachers special care is taken even for senior classes that with respective sport and co-curricular activities children are encouraged to participate. In classes IX and X along with five regular subjects Computer Application and Tourism are also taught. In classes XI and XII we offer Mathematics, Biology, Chemistry, Physics, Computer Science and Biotechnology in Science Stream. In Commerce Stream we offer Accountancy, Mathematics, Business Studies and Economics. In Humanities Stream we offer Political Science, History, and Geography along with Physical Education which can be opted by all the three streams.
Stress on the need of holistic development is provided where regular and healthy student teacher interaction strives
SUBJECTS OFFERED FOR CLASSES XI AND XII