Network and Internet Connectivity
Network and internet connectivity is available in each room. Primary school building and Sr. secondary school building both are connected with computer and internet network.
School Automation Software
School Automation software is working properly in APS Jodhpur. All the report cards are generated with this software. Admission, Attendance, Exam, Library all processes are computerized and handled by School Automation Software.
Smart Classes
Our schools have smart classrooms that use audio-visual methods of engaging students with their lessons to provide quality education, facilitate best learning and to make learning fun filled and more interesting. There are 102 smart classrooms and all are equipped with Projectors, Interactive digital board, Screen, Speaker, Document Camera, Stylus along with computer. Sections of curriculum are diligently imparted through smart class rooms that consist of large amount of digital content. It is also highly efficient in maintaining student's interest and engagement in learning inside the classroom.
Educational videos from BBC are also available for teachers to use in the classroom. By using Smart Class Technology, a teacher can teach a chosen lesson in class topic by topic, with engaging and instructionally sound animated set of visuals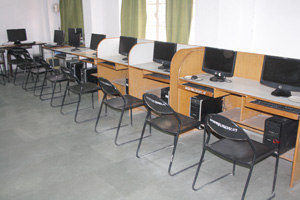 Resource Cell
This lab specially designed to equip the educators, offers an opportunity to nourish their teaching – learning skills, providing them with latest updates and helps them to maintain the school records. There are 13 Computer systems in senior wing e-library and 11 computer systems in primary wing e-library and all are having Internet Facility. An online counseling exam has already been conducted for students in this lab.
Art & Craft Room
Art & Craft room is a place where student get solace and they are away from their textual & factual world, their fantasy and imagination is in active mode which helps them to be in their creative world and create some master piece paintings.
Art room is the place where children can express their aesthetic values to, relax and build their confidence. Art & Craft education inculcate sense of satisfaction that emerges out to create new vision. At APS visual Art such as painting collage, photography, textile designing are taught in well equipped. Art & Craft room with the guidance of expert teachers.
Music Room
Music is an art form and cultural activity whose medium is sound and silence. The common elements of music are pitch (which governs melody and harmony), rhythm (and its associated concepts tempo, meter, and articulation), dynamics (loudness and softness), and the sonic qualities of timbre and texture (which are sometimes termed the "color" of a musical sound). School have well furnished and well equipped Music Room for learning western, classical, folk and fusion music. We have musical Instruments like Jazz Drum, Synthesizers, Flutes, Guitars (Acoustic, electric and bass), Congo, Bongo, Dholak and Tabla ect with Professional Sound system and Sound Mixer.